Make dispensing and application processes more efficient and safer than ever before
Air Flo is the master distributor for Walther Systemtechnik in America. Walther Systemtechnik designs, constructs and manufactures components, systems and automation platforms for everything related to the conveying, dosing and application of liquid and pasty media.
As a competent partner in the fields of Dosing, Spraying, and Pulsing of fluid and pasty media, Walther Systemtechnik provide leading equipment to process oils, greases, adhesives, paints, preservatives, silicones, release agents, acids, primer.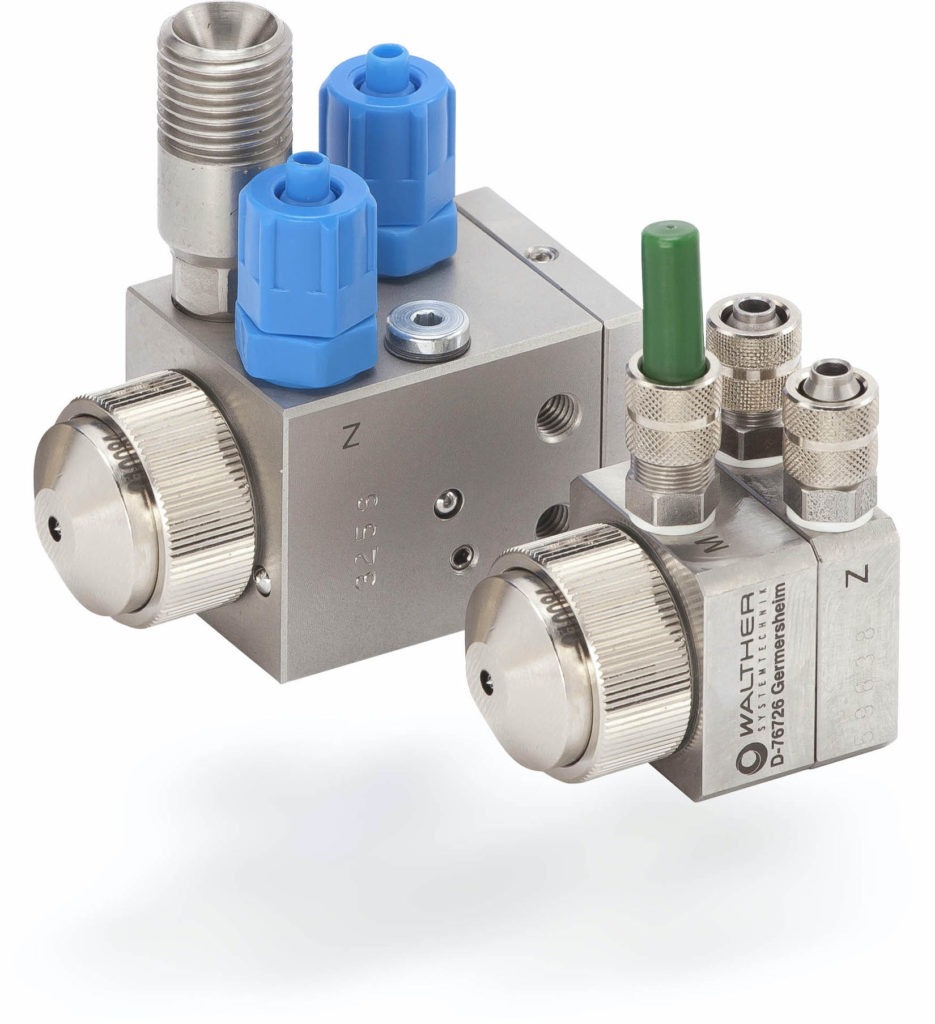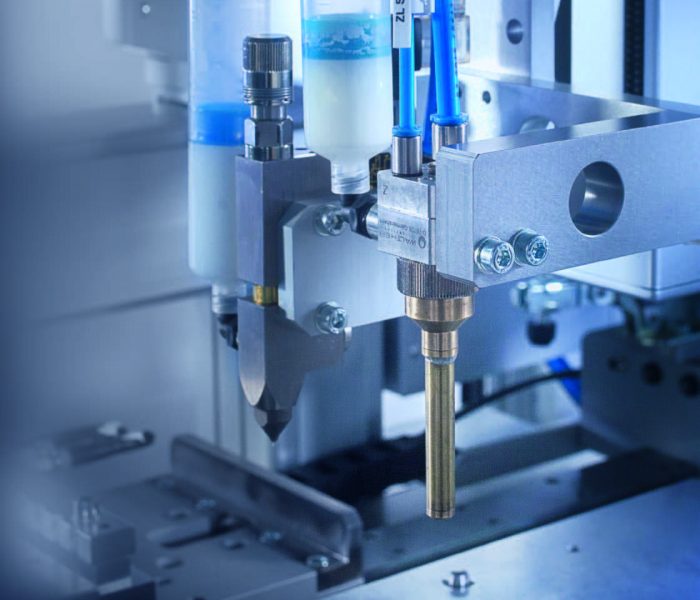 Everything you need in order to dispense and apply viscous media. Completely. From a single source. From conveying and supply through forwarding and preparation to processing and application – perfectly controlled and regulated.
Pumps, filters, pressure regulators, dosing valves, sensors or diagnostic units – with 22 years of successful market presence, we are established as a reliable, innovative developer and manufacturer of dosing components and dosing systems and we are constantly adapting our products for all aspects of dosing and application technology to the needs of the market and our customers.
Conveying and supply
Starting with the gentle supply of the medium, we offer various options for conveying liquid and viscous materials without loss by means of a feed pump, media reservoir, cartridge system or pressure vessel.
Advantages of Walther Equipment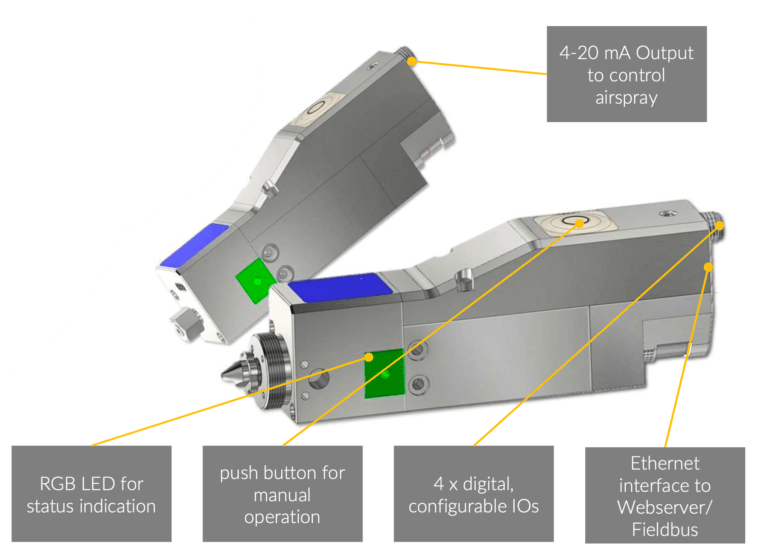 The IoT Industry 4.0-Valve
Spray valves in three configuration levels
Developing a modular system for valves for defining spray valves. The valves will be offered on the market in different 'configuration levels' which differ by their scope of function.
Walther Modular combines quality, design, and functionality with a variety of advantages.
The core element for lubricant supply and maintenance in WALTHER MODULAR is the completely modular design. The individual components of the series can be variably combined to a system as they were designed as plug-in modules. From components to pipes, all is finely adapted.
We can construct individual systems which meet your needs and cover exactly the required working area. This concept comes with a great advantage: using proven modules makes the project planning of your maintenance system more efficient and profitable. Also, the engineering risk drops considerably. All modules can be refurbished after their operating phase and reintegrated in a new system. The individual modules will operate mostly independent of each other.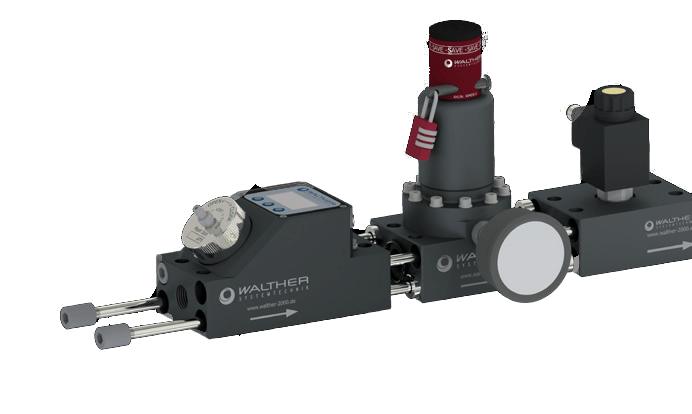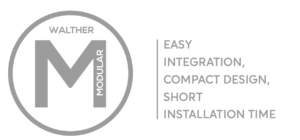 Intelligent modification instead of cumbersome upgrading
Simply free of gas and air bubbles.
With Advanced Degassing Station,
you can prepare lubricants optimally
for application in no time at all.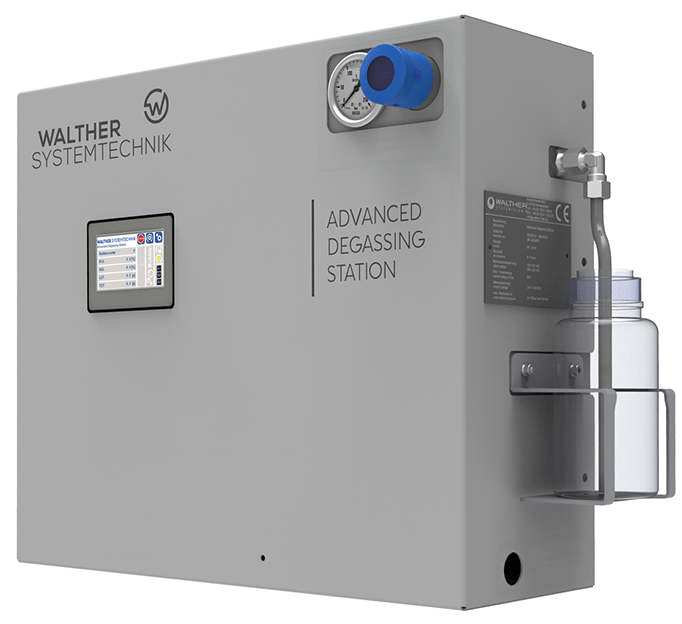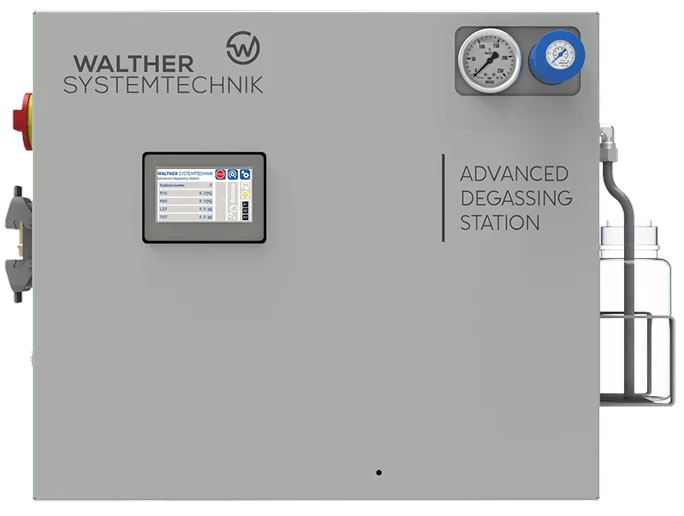 Walther Advanced Degassing Station "scans" your medium for gas inclusions and discharges them in a material-saving manner.
Benefit from more stability and less wastage in application processes.
With the Walther Advanced Degassing Station – or WADS for short – is specially designed for the treatment of low to high viscosity materials, detects even the smallest gas bubbles in the medium volume flow and discharges them efficiently. In this way, you reliably free your medium from disruptive gas inclusions, protect your system from damage, and reliably and sustainably stabilize the quality of material, application, and production.
DOSING AND APPLICATION SYSTEMS EXAMPLES