Equipment for fluid management in industrial processes
There are two distinct advantages Samoa's diaphragm pumps have over competitive lines.  The DF series uses a Pivot-Style air valve which is up to 30% more efficient when it comes to compressed air consumption. 
The other innovation is the center-flow-through design.  If you look at traditional diaphragm pumps they have two discs on either side of the pump. Samoa's design routes the fluid up through the center of the pump and can cut pulsation up to 40% compared to competing brands.  The ability to run these pumps without pulsation dampeners is a big advantage.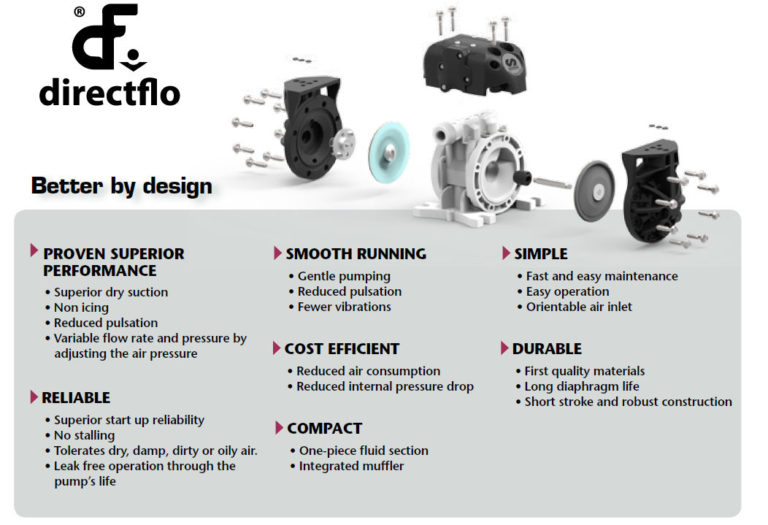 Directflo® pumps are based in an "inside-out" technology: the fluid is pumped through the center of the pump and the compressed air acts on outside face of the diaphragms.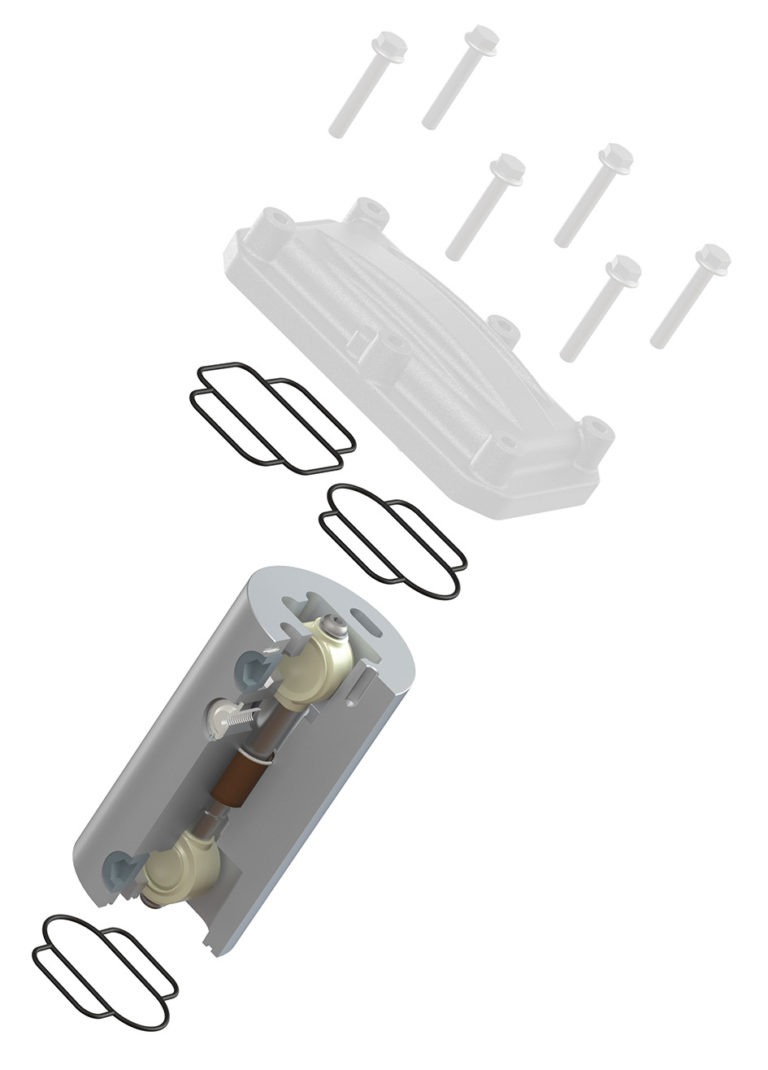 With an innovative cartridge design, the air valve assembly can be easily removed and cleaned or replaced if necessary, reducing pump downtime. The Air valve has the fewest moving parts in the industry: no spools, no o-rings. Unique frictionless pivot valve. On-Off-On maximum reliability. Patented Smooth Start Shifter (3s) actuator activates the pivot valve for reliable start on-demand systems, even with reduced air pressure. Air valve cartridges are manufactured in aluminum for metal pumps and in conductive polypropylene for non-meta; pumps.
SAMOA in a flexography printing machine for ink
SAMOA has X 1" DF100 Diaphragm Pumps installed in a factory of labels and packaging. Each of that pumps is installed in a different flexo printing machine. Our pump dispenses solvent base ink to a fountain that keep the printing rollers always submerged. Some reasons why the user changed to SAMOA AODD Pumps was because of the low consumption, the reduced pulsation and the ATEX certification recently required in their country.
Request a quote from Air Flo on Samoa Flow Division Systems and we will be in contact with you shortly.
CHEMICAL, PETROCHEMICAL AND REFINERIES
METALWORKING
PAINT AND COATINGS
WATER PROCESS
SURFACE TREATMENTS
PULP AND PAPER CONVERTERS
WASTEWATER
CERAMIC
CONSTRUCTION AND MINING
VEHICLE PRODUCTION AND MAINTENANCE
HYGIENIC-SANITARY APPLICATIONS
PRINTING AND PACKAGING
Request a quote from Air Flo on Samoa Flow Division Systems and we will be in contact with you shortly.